Signify Reports Q2 Results
Eric Rondolat shared insights about the company's Q2 results with Bloomberg TV.
Interview topics:
Why Signify is not providing future financial guidance to the financial markets.
How the company was able to achieve its highest-ever mark for employee satisfaction
The impact of supply chain on reduced revenue Q1 vs. Q2
UVC: 30 days ago, the company announced its plans to launch 7 new UV product families. That number has now grown to 12 new product families. The company is increasing its UV-C production capacity by 8X.
CEO Interview on Bloomberg TV
---
Signify Q2 Highlights Video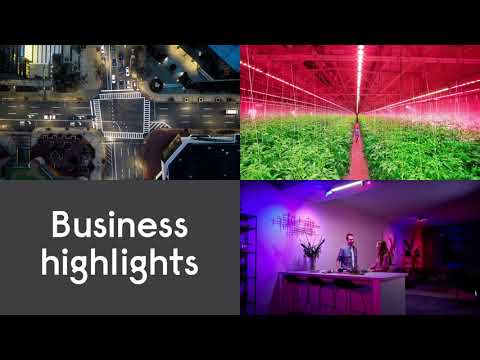 ---
Press Release
July 24, 2020

Signify reports second quarter sales of EUR 1.5 billion, maintains operational profitability of 9.0% and generates a free cash flow of EUR 158 million

Second quarter 2020 – Demonstrating resilience in a challenging market environment
Signify's installed base of connected light points increased from 61 million in Q1 20 to 64 million in Q2 20
Sales of EUR 1,469m, nominal sales growth of -0.6% and CSG of -22.5%
LED-based sales represented 80% of total sales (Q2 19: 79%3)
Adj. indirect costs down EUR 86 million, or -19.1%, excl. currency effects and changes in scope
Adj. EBITA margin remained stable at 9.0%, including currency impact of -60 bps
Adj. EBITA margin of the growing profit engines increased by 100 bps to 9.5%
Net income increased to EUR 81 million (Q2 19: EUR 50 million) mainly due to one-off items
Free cash flow increased to EUR 158 million (Q2 19: EUR 121 million)
Cooper Lighting cost synergies ahead of plan
Signify to achieve carbon neutrality before the end of the year
COVID-19 update – Fast adaptation while maintaining stringent health & safety standards
Health & safety of our employees and stakeholders remained our number one priority; 79% of all locations re-opened under stringent health & safety conditions
A broad range of mitigating actions was successfully implemented to protect profitability and cash flow
Over 85% participation in voluntary worktime reduction and a record-high employee NPS score attest to the high engagement of our employees
We are increasing our UV-C light source production capacity by a factor 8; we are launching 12 families of UV-C based products; we have invested in upper-room air disinfection systems by acquiring GLA

Eindhoven, the Netherlands – Signify (Euronext: LIGHT), the world leader in lighting, today announced the company's 2020 second quarter results. "In Q2, the engagement of our teams to face the challenges posed by the pandemic have been second to none. The implementation of the safety measures helped to keep our people safe. We successfully managed to maintain operational profitability while improving free cash flow in adverse conditions. I am proud to finish the quarter with a strengthened cohesion across the organization, evidenced by our highest ever employee Net Promotor Score," said CEO Eric Rondolat. "We remain very cautious about market developments but confident on our ability to further adapt. The disciplined execution of our strategy and the acceleration of the integration of Cooper Lighting will continue to drive our growth platforms and new business opportunities. Last but not least, let me share our excitement for achieving carbon neutrality in 2020, and for renewing our five-year sustainability program with even more ambitious commitments later in the year."
Resilience in a challenging quarter
Health & safety of Signify's employees and stakeholders remained the number one priority. 79% of all our locations are open. The supply chain is 98% operational and employees are gradually returning to the offices in a structured and safe way. At a very early stage of the COVID-19 outbreak, Signify identified a broad range of mitigating actions to preserve profitability. These measures included non-structural cost savings of EUR 43 million in the second quarter, related to solidarity measures which were supported by our employees and government contributions. Next to this, the company has also implemented a range of measures to safeguard free cash flow, of which EUR 40 million was related to a temporary positive impact from real estate proceeds and government-extended payment terms for taxes.
Continuous commitment to Sustainability

In the first half of 2020:
Sustainable revenues represented 83% of the total revenues, exceeding 2020 target of 80%.
Signify sold 2.6 billion LED lamps and luminaires in the period from 2015 till the first half of 2020, well ahead of its commitment to deliver more than 2 billion LED lamps and luminaires by the end of 2020.
The company also decreased its waste to landfill in Q2 by 89% compared with last year and is ahead of its targets related to a safe & healthy workplace and a sustainable supply chain.
The company reduced its carbon footprint by 26% compared with last year and is well on track to achieve carbon neutrality this year.

In June 2020, Signify announced that it will start phasing out plastics with the aim to be plastic-free on all consumer-related packaging in 2021. New sustainability targets as part of our coming five-year program will be announced in the second half of 2020.

Outlook
Considering the persistent uncertainty about the future course of the pandemic, and the length and depth of the impact on the global economy, Signify still does not provide financial guidance at this point in time. However, Signify is confident in the underlying resilience of its businesses and operating model, and that its liquidity needs are well covered by the financial framework it has in place. In line with the company's policy to prioritize future deleveraging, Signify confirms its intention to utilize up to EUR 350 million to reduce gross debt in 2020.
This press release contains certain non-IFRS financial measures and ratios, such as comparable sales growth, EBITA, adjusted EBITA and free cash flow, and related ratios, which are not recognized measures of financial performance or liquidity under IFRS. For a reconciliation of these non-IFRS financial measures to the most directly comparable IFRS financial measures, see appendix B, Reconciliation of non-IFRS financial measures, of this press release.